Rising Tides – Norfolk Edition
Baseball content! Despite the fact that we don't have any new games in 2020 to watch and enjoy (at least not yet – fingers crossed emoji), the MLB Draft is tonight. With the Orioles set to make the #2 pick (for the first time in club history), I thought it would be a fun exercise to look back at how previous first round selections have fared during their time in Norfolk. Unsurprisingly, most of these guys performed really well – that tends to be the case with first round picks since they're usually pretty good.
We're starting this exercise in 2007, which was Norfolk's first year as an Orioles affiliate.
2007 – C Matt Wieters – #5 overall pick out of Georgia Tech
Wieters was arguably the highest-rated prospect to ever play for the Tides. He was named the 2008 Minor League Player of the Year by Baseball America after hitting .355 with 27 homers and 91 RBI in 130 games between Class-A Frederick and Double-A Bowie, and he entered the 2009 season rated as the #1 prospect in all of baseball by several publications. Throw in the fact that he was a switch-hitter and an outstanding defensive catcher with a rocket for an arm and it was easy to understand all the hype.
Wieters played in 39 games with the Tides during the 2009 season, batting .305 with five home runs, nine doubles, 30 RBI and a .387 on-base percentage. He got off to a slow start, and suffered a mild hamstring injury in just his seventh game that contributed to a slow April. (Random fact about that hamstring injury – that game was played on April 17th, which was the first-ever home game in the history of the Gwinnett franchise after the club moved from Richmond. Wieters hit a single in the top of the first inning – the first official hit in the history of the ballpark – and was removed for a pinch-runner after aggravating his hamstring.)
Anyway, Wieters really caught fire at the start of May, hitting safely in eight of his first 10 games to up his average to .301 on May 10th. On May 14th he homered twice and drove in four in a win at Syracuse, then hit another homer the next night as part of a two-hit contest. In what turned out to be his final game in a Tides uniform, he went 4-for-4 with four RBI in a win at Toledo on May 26th that upped his average to .330 over 25 games in May.
Wieters made his MLB debut two nights later to a LOT of fanfare – the attendance that night at Camden Yards was 42,704. He ended his rookie year batting .288 with nine homers and 43 RBI in 96 games. He won Gold Glove Awards in 2011 and 2012, and was named an American League All-Star on four different occasions.
2008 – LHP Brian Matusz – #4 pick out of University of San Diego
Matusz was named the West Coast Conference Pitcher of the Year and was a finalist for the Roger Clemens Award while at San Diego, and Baseball America ranked him as the #5 prospect in all of baseball prior to the 2010 season. He made the jump from Double-A Bowie straight to the Major Leagues in 2009, going 5-2 with a 4.63 ERA in eight starts for the Orioles that season. He backed that up by winning 10 games and posting a 4.30 ERA in 32 starts for Baltimore in 2010, but he scuffled tremendously during his time with the O's in 2011 that resulted in him being sent down to Norfolk.
Matusz pitched really well during his 2011 campaign in Norfolk, posting a 3.46 ERA over nine starts in a Tides uniform. He returned to Norfolk for a stint in 2012, going 2-1 with a 4.21 ERA in 10 outings (six of which were starts). It was during that time in Norfolk that he made a change that revitalized his career, as he joined the Tides bullpen for his final four outings. He struck out the side in a perfect inning of relief in his final appearance with the Tides, and he proved to be an extremely valuable weapon during Baltimore's run to the postseason that year. In six postseason appearances that season, he posted a 1.92 ERA while allowing just two hits.
The southpaw was extremely effective out of the bullpen for his next three seasons in Baltimore: a 3.53 ERA in 65 appearances in 2013, a 3.48 ERA in 63 outings in 2014 and a 2.94 ERA over 58 games in 2015. He was eventually traded to Atlanta during the 2016 campaign.
2009 – RHP Matt Hobgood – #5 pick out of Norco High School (CA)
2010 – IF Manny Machado – #3 pick out of Miami Brito HS (FL)
2011 – RHP Dylan Bundy – #4 pick out of Owasso High School (OK)
We never saw any of these three first round picks in Norfolk, for various reasons. Hobgood struggled during his career and never made it past Double-A Bowie. Machado made the jump from Bowie to Baltimore in 2012 and developed into one of baseball's superstars. And Bundy had a bunch of injuries throughout his career before ultimately becoming a fixture in Baltimore's rotation in 2016.
Selfishly we would have loved to see them in a Tides uniform, although we did see Machado and Bundy play at Harbor Park during the Orioles/Tides Exhibition Games. We'll take what we can get.
2012 – RHP Kevin Gausman – #4 pick out of LSU
Gausman thrived during his collegiate career at Louisiana State University, and he was an All-American after going 12-2 with a 2.77 ERA in 18 games for the Tigers in 2012. He made his MLB debut in 2013 when he made the jump straight from Double-A Bowie to Baltimore, but he was optioned to the Tides in June that year.
Gausman's pitch count was often limited in his career with the Tides, resulting in him throwing 6.0 innings or more just three times over his 23 career appearances in a Norfolk uniform. Because of that he owned an ugly 2-8 record despite a career ERA of 3.38. Interestingly, he never recorded a win in his 12 career outings at Harbor Park, so if someone you know says they saw Gausman win a game in Norfolk you can tell them you know they're lying.
Gausman went on to win 39 games over his six-year career with Baltimore before being traded to Atlanta in 2018. He made three relief appearances for the Orioles during the 2014 postseason (striking out seven while allowing just one run over 8.0 innings), and he made another postseason appearance for the Braves in the 2018 NLDS. He signed as a free agent with the San Francisco Giants prior to the 2020 season.
2013 – RHP Hunter Harvey – #22 pick out of Bandys HS (NC)
Harvey immediately jumped near the top of Orioles prospects lists when he was picked in 2013, and by the time the 2015 season came around he was rated as highly as the #20 prospect in all of baseball by Baseball Prospectus. The problem was, he could just never stay healthy. He underwent Tommy John surgery in 2016, rehabbed for most of 2017, then suffered a shoulder injury in 2018. But when he did pitch, he was incredible. In 73 career games (58 starts) at the Minor League level, Harvey has registered 300 strikeouts and just 86 walks while allowing 222 hits in 252.1 innings. Yeah, he's got 78 more strikeouts than hits allowed, which is all sorts of good.
Harvey made his Tides debut in 2019, going 1-1 with a 4.32 ERA in 12 relief appearances. He struck out 22 and allowed just 13 hits (sound familiar?) in 16.2 innings before making his MLB debut with a scoreless inning of relief at Fenway Park on August 17th. In seven outings with the O's, he struck out 11 and allowed just three hits (where have we heard that before?) over 6.1 innings of relief. He's undoubtedly one of the most exciting pieces in Baltimore's bullpen.
Oh, and he has TREMENDOUS hair.
2015 – OF DJ Stewart – #25 pick out of Florida State University
2015 – IF Ryan Mountcastle – #36 pick out of Paul J. Hagerty HS (FL)
The Orioles drafted two sluggers out of Florida for their 2015 picks and came out with two of the top prospects currently in the organization. Stewart was taken out of FSU with the #25 pick, while Mountcastle was a supplemental first round pick in the #36 slot.
Stewart had a decent first two years in the O's system before turning in a spectacular season with Double-A Bowie in 2017. He hit .278 with 21 homers, 20 stolen bases, 26 doubles and 79 RBI in 126 games for the Baysox, becoming the first player in franchise history to hit 20 home runs and swipe 20 bases in the same season. He joined the Tides in 2018 and hit a memorable homer for his first Triple-A round tripper – a two-out, two-run walk-off homer in the ninth inning on April 8th vs. Gwinnett. He was named an International League Midseason All-Star with the Tides that season and he made his Major League debut in September – eventually hitting his first big league homer on September 19th.
Stewart split the 2019 season between Norfolk and Baltimore, and he was named the O's Minor League Player of the Month in May after batting an absurd .457 (31-68) with 10 doubles, five homers and a .518 OBP. Seriously, he had more multi-hit games (8) than hitless games (3) in May while leading all of Minor League Baseball in average . He batted .238 with four homers in 44 games with Baltimore, although he had a couple stints on the Injured List that slowed down his season.
Mountcastle has hit at every level of the minor leagues, batting .295 with 70 home runs and 274 RBI in 524 career MiLB games. He's been named as an MiLB.com Organizational All-Star each year he's played, and he was a Midseason All-Star for Frederick in 2017, Bowie in 2018 and Norfolk in 2019.
With the Tides in 2019, Mountcastle was named the International League MVP, Norfolk's first MVP since Roberto Petagine in 1997. He was named the Orioles Brooks Robinson Minor League Player of the Year after leading O's minor leaguers in average (.312), home runs (25), RBI (83), .OPS (.871), doubles (35), slugging (.527), extra-base hits (61) and total bases (274). He basically led in so many categories that his media guide page was nearly impossible to get down to one page.
He entered the 2020 season ranked as the #57 prospect in all of baseball by Baseball Prospectus, and he's ranked among the top five prospects in Baltimore's system by nearly every ranking publication. Big things are expected of him, and we can't wait to watch him hitting lasers at Camden Yards in the very near future.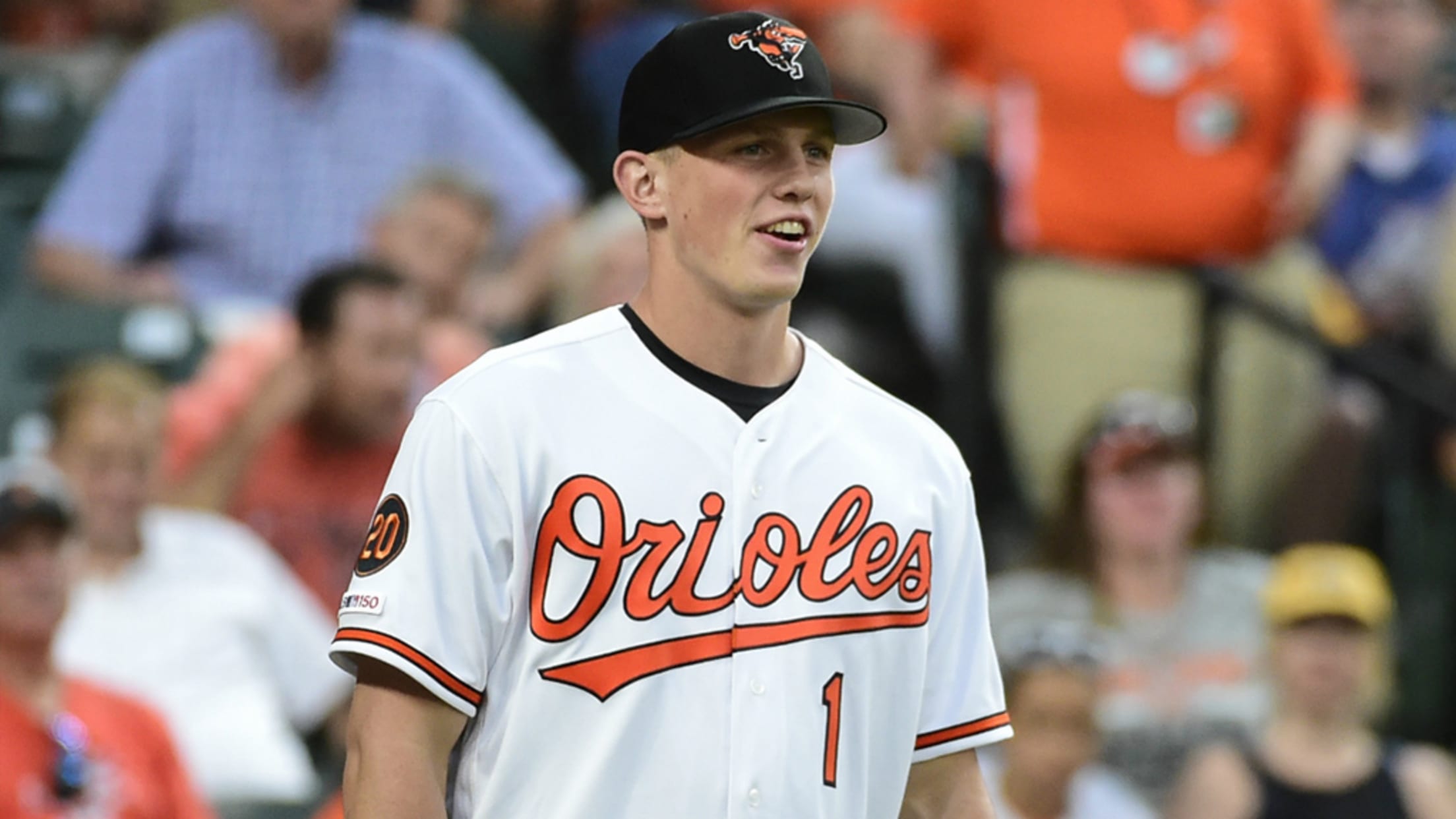 2016 – RHP Cody Sedlock – #27 pick out of University of Illinois
2017 – LHP DL Hall – #21 pick out of Valdosta HS (GA)
2018 – RHP Grayson Rodriguez – #11 pick out of Central Heights HS (TX)
2018 – IF Cadyn Grenier – #37 pick out of Oregon State
2019 – C Adley Rutschman – #1 pick out of Oregon State
None of these five has played for the Tides yet, but that doesn't mean we're not drooling to see each of them play in Norfolk. Sedlock was probably slated to start with the Tides before the pandemic shut down everything, as he posted a 2.84 ERA in 22 games (16 starts) between Frederick and Bowie last season.
Hall is only 21 but posted phenomenal numbers with Frederick last year, registering 63 more strikeouts (116) than hits allowed (53) while posting a 3.46 ERA in 19 games (17 starts). Oh, and he held Carolina League batters to a .189 average. Kid's legit.
If it's possible to believe, Rodriguez put up better numbers than Hall last year, going 10-4 with a 2.68 ERA, 129 strikeouts, 57 hits allowed and a .171 opponents average in 20 starts for Class-A Delmarva. He entered 2020 as the #2 prospect in the Orioles system, and with good reason.
Grenier split his 2019 campaign with Delmarva and Frederick, and entered the 2020 season rated as the #24 prospect in the Orioles system by MLB.com. An outstanding defensive infielder, he posted a .360 OBP in 82 games with the Shorebirds last season.
Rutschman was just the second #1 overall pick by the Orioles after Ben McDonald in 1989. He was the first catcher selected first overall since Joe Mauer in 2001, and he's rated among the top five prospects in all of baseball according to anyone who knows what they are talking about. Rutschman is probably at least a year or two away from playing in Norfolk, but we're already looking forward to seeing him pepper balls all over Harbor Park.